This is part of a larger project reviewing commentaries on each book of the Bible. Follow the links from that post for more information on the series, including explanations of what I mean by some of the terms and abbreviations in this post.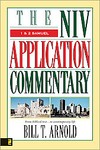 I don't usually give NIVAC volumes pride of place, but Bill Arnold's (2003) really is my favorite commentary on Samuel. He has a great sense of the narrative flow of the book, and he gives arguments for his conclusions, something not all the authors of this series do as well as he does.
The series' strength, when it's done well, is to present the original meaning of the passage, often giving it the length a brief, popular-level commentary will usually give, followed by two further sections. Bridging Contexts looks at the theological, existential, and moral principles behind the text in its original setting in order to abstract away from that setting, which allows the author to move to Contemporary Application to apply those principles in our day. Some authors in this series do not make good use of the format, using the different sections to talk about whatever they feel like but without ever using the format the way it was intended. Others are not careful in their abstracting from the original text or not very thoughtful in how to apply the text.
Arnold is among the best writers I've read for this series so far. (Karen Jobes, who did Esther, and Craig Keener, who did Revelation, are in the same league. Craig Blomberg's I Corinthians would have been if his hadn't been one of the earliest volumes and thus not allowed as much room as the series tended to allow as it went on.) Arnold has a great sense for the narrative flow of the text, and his theological and moral reflections strike me as honest, careful, insightful, and aware of scholarship in not just theology but also ethics, which several authors in the series lack. In other words, he isn't just a linguist or historian, as many biblical scholars are.
I particularly liked his treatment of the problem of lying and the problem of war in Samuel. He raises questions many commentators ignore, and he doesn't try to get around the text but simply faces it. He brings in background work by theologians who have engaged with a larger philosophical tradition on these ethical and theological issues. Several commentators on this book disappointed me greatly in how easily they would avoid what the text says in certain places just so their favored ethical theory might come out true, which strikes me as just eisegesis.