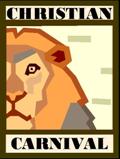 Welcome to the 174th Christian Carnival. The Christian Carnival is a weekly collection of some of the best posts of the Christian blogosphere. It's open to Christians of Protestant, Orthodox, and Roman Catholic convictions. One of the goals of the carnival is to offer to our readers a broad range of Christian thought. For past carnivals, see
Matt Jones's list of previous Christian Carnivals
.
A number of submissions this week did not qualify. I had to reject three posts that didn't seem to me to be even remotely coming out of a Christian worldview even in the somewhat broad sense of 'Christian' that that Christian Carnival allows. Another submission wasn't really from a blog, and it had been posted in February. The Christian Carnival's purpose is to highlight the best blog posts of the past week. When I host, I will sometimes extend a little grace to include a post that's just barely outside the qualifying period, as I did this week with three posts (but note to those who might try this in the future: no host is obligated to do this). But an essay that's not on a blog that was posted almost four months ago doesn't really fit the purpose of this carnival.
I may have left out posts inadvertently that aren't in any of the above categories, so if your submitted post isn't here please let me know. It's possible that I didn't reject it but just missed it somehow. I've listed the posts in the order I received them.
Lawrence of Arabia presents trying to read the news from pakistan posted at revolt in the desert. Christians in a town in the Northwest Frontier Province of Pakistan receive threatening letters, and the media struggles to report the story.
Daniel Condurachi presents Big Problems Resolved With Small Sacrifice posted at Daniel Condurachi's Blog, dealing with the wise woman who saved her town in Israel from Joab's troops by delivering over the head of the rebel Sheba (from II Samuel 20).
Why are our prayers seem to be unanswered sometimes? Why is our faith lacking? How Can We Overcome Our Unbelief? at www.joysoriano.com discusses how we can overcome our unbelief and receive miracles from our prayers.

Martin LaBar at Sun and Shield gives us St. Augustine, Exegesis, and Origins, which points to, and summarizes, an on-line article, available to all, in Perspectives on Science and Christian Faith, which is about Augustine's views on the first part of Genesis. The author says that it is not possible to make Augustine, who thought about this topic a lot, fit into any of the current common camps of views on origins, and explains why not.
DeputyHeadmistress presents Go Against the Flow posted at The Common Room, which deals with a dangerous temptation in homeschooling to focus so much on the reactive rejection of what homeschooling is a response to, rather than proactively setting positive goals to work toward.
How different is Allah from the God that you worship? Tantalizing if True submits There is no god but God, which points out that names like 'Allah' and 'God' are simply words that refer to God. The difference between Christianity and Islam is not about which divine being the word 'Allah' refers to (as if there might be more than one) but rather what the two religions hold to be true of God.
Jenny-up the hill presents Up the Hill Gang: 10 Days posted at Up the Hill Gang, on the subject of the upcoming anniversary of her son's death (which is tomorrow as of this posting).
Conversations with small children have great potential for putting important truths very simply. See a good example of that in he was listening after all at adventures in daily living.

Hummie at Look to the Lord says, "This is the link to my Sentence Sermon collection for church signs. I have just started this blog with a collections by topic of Christian writings and inspiration and am trying to get all added as quickly as possible. It should be a great resource, especially for church secretaries." See the list in Sentence Sermons.
Adam Graham presents
Getting Cross About ACLU Supporter Nonsense
posted at
Adam's Blog
.
The Parableman entry for this week is a post taken from notes for a seminar I led several years back for Christian college students on Unity in a Diverse Body of Christ.
Mick asks, "Why is it such a big deal to use accurate words when describing events and procedures? And why no sane person should ever vote for a presidential candidate that is so morally insane that they would actually support such practices." See To Our Presidential Candidates: Why Words Are Important at Romans 15:4 Project.
Henry Neufeld presents Hebrews: Going On Toward Perfection at Participatory Bible Study Blog.
Tom Gilson gives us Unforgotten Messages at Thinking Christian.
Ever feel like you have been swallowed by a whale? See Kathleen Dalton's Top Ten Things To Do When Swallowed By a Fish at Vegetable Soup.
Annette of Fish and Cans, submits It all comes down to Christ, reminding us that Christ is what really makes the difference.
Matt Jones of Random Acts of Verbiage takes note of HotAir's new venture with Robert Spencer who will be blogging through the Qur'an to try and gain some insight into the mindset of Islamic extremists, in Blogging the Qur'an.
Adam Faughn presents Just for a Moment posted at The Faughn Family of Four.
Bryan McKenzie sends in Word of Faith: Prosperity Theology II at THEOdyssey.
Peter Smythe looks at the question of whether Jesus descended into hell in Luke 23:46 - Jesus's "Geronimo" - Part 1 at The Real Faith.
Rodney Olson says, "While we don't always come up with the same answers there's a part in all of us that wants to explore the bigger picture and ask the deeper questions of life." See Is there anybody out there? at The Journey.
Reposting the Ten Commandments and reinstituting prayer into the schools won't save the nation. What will? See Save the Church....Save the Nation at Crossroads: Where Faith and Inquiry Meet.
Markat Pseudo-Polymath says, "I share a short 5th century psalm by Ephraim. Actually, I think the little book I drew this from is one of the scandals of the Orthodox church. The scandal is that it is not more widely shared and praised." See A Christological Ode or Orthodox Orthodoxy.
Weekend Fisher of Heart, Mind, Soul, and Strength begins a series on ways to recognize good and bad theology without resorting to doctrinal preconceptions. What does it say about a theology when parts of the Bible don't fit? The post is called Recognizing Good and Bad Theology: The Leftover Parts Test.
Late additions:
Rey from the Bible Archive rambles on about a future for Israel, and on his personal blog he starts posting why he thinks Christian Science isn't Christian at all. (I can't remember if one person is allowed to submit two posts from different blogs, so I'm giving Rey the benefit of the doubt, especially because technical difficulties preventing him from getting either submission into the carnival on time).
From Erich Bridges: "Praise and encouragement are wonderful tools as we love our children and guide them into adulthood. Mindless adulation, however, creates as many problems as condemnation. Biblical faith is about a very different "culture of praise." We praise and serve a God who lavishes unconditional love and undeserved grace upon us – but He expects our all in return." For more, see Another 'me generation'?, at CounterCulture.

A Tale of Two Museums. Some are crying with joy and thanksgiving. Others are laughing in scorn and incredulity. Many are already planning protests. But like it or not, The Creation Museum opens for business this week. Don at The Evangelical Ecologist contrasts the world views of this Bible-based museum with the Smithsonian's National Museum of Natural History in Washington D.C.
Jodi discusses the National Day of Silence and wonders what happened to tolerance when counter-protesters are suspended in Tolerance Schmolerance at whereisjodi.