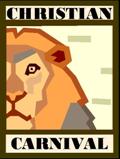 John includes quite a few of the new things that at least five people have been helping set up to rejuvenate the carnival. I've lost track already of who has done what. We now have
a forum
hosted by Nick Queen, a new submissions email address (which I include in my plugs for new carnivals), and
a new announcements list
at Googlegroups. What John doesn't have there (although perhaps he'll add it when he finds out about it) is the newly established
BlogCarnival entry for the Christian Carnival
, which means we can once again
submit posts there
instead of by email. The
hosting schedule
will be available there as well as in the new forum.
Thanks to all who have helped set these things up. It was nice to see so many people step in when the need arose, including those who have submitted posts and those who have volunteered to host, a couple even at the last minute. It was a good instance of different people contributing to something according to their own ability, knowledge, skill, and motivation, and thus it's an instance of what Paul speaks of in I Corinthians 12.
Update
: I forgot to mention the
Christian Carnival blogroll
, which is older but has continued to be updated during the transition. It's a nice way to have the recent carnivals appear in your blogroll automatically.